Nicoletta "One Quarter Greek"
How many people do you know that have the courage to just pick up and go live their dream on the other side of the world?
Here is a real story about Nicoletta, the super sweet, charming blogger of www.onequartergreek.com and her brave move from London to Santorini. She found the courage to express what she truly wanted and despite her fears she just did it! Read her inspirational story below.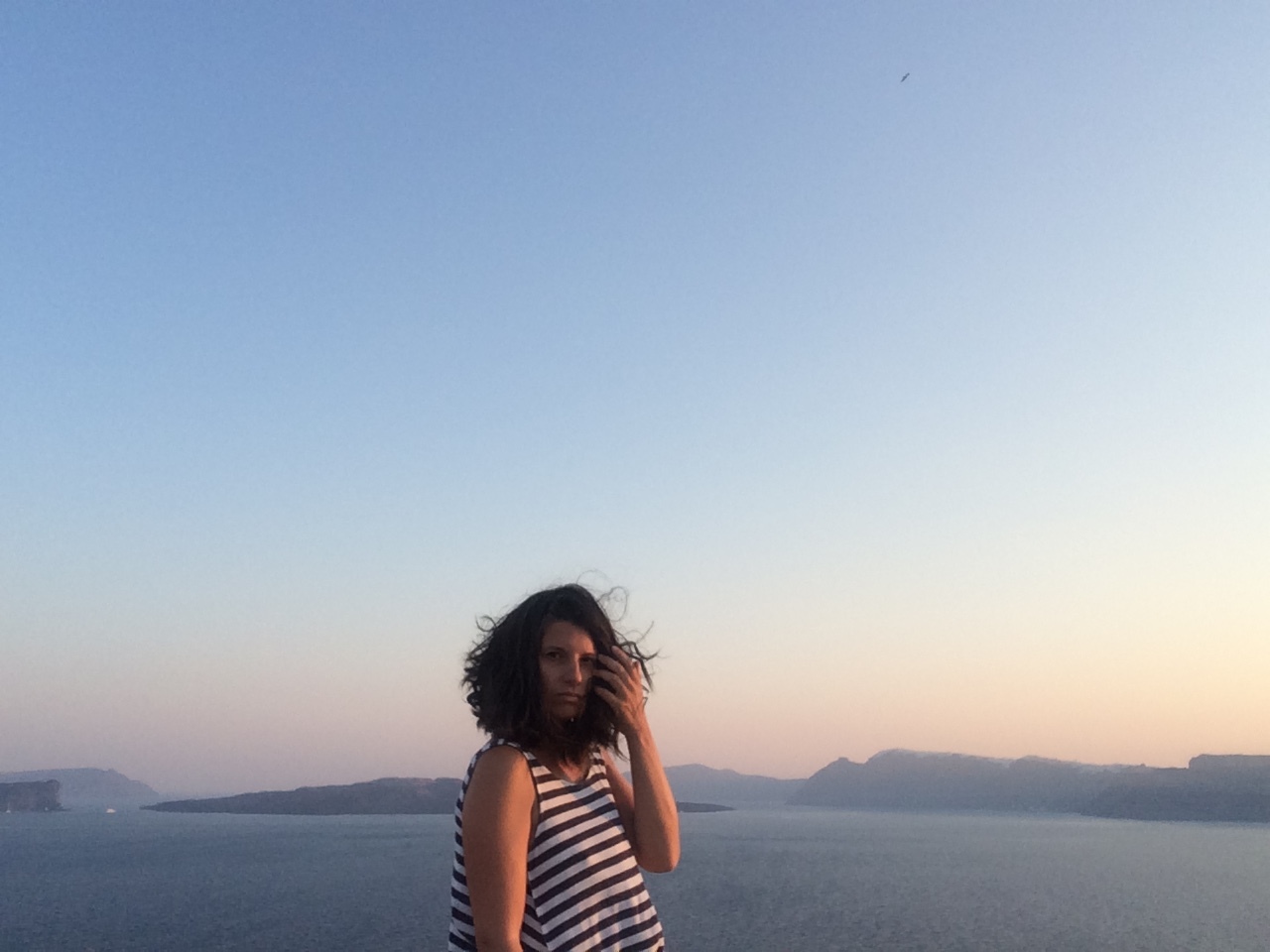 This is my story. This is my dream. This is my life now.
"How many times you heard someone, or yourself, coming back from a holiday, saying 'I want to move there!' How many times did you think that this could be possible?

My name is Nicoletta, I am an Italian girl, one-quarter Greek, who always lived in big cities such as Milan, Rome, and London, and now lives in Santorini, one of the most beautiful islands on the planet.

Why did I move?

You will think the answer is easy: it's a wonderful place, sun, beaches, sea everywhere. I am afraid this is not the correct reason why I moved here.

Let's start a bit earlier than the beginning. When I wasn't even born yet.

My grandmother was from Kefalonia, another Greek gem. Unfortunately, I did not get the chance to meet her as she passed away when my father was a child. But I have some Greek blood in my veins which came up in 2005 when I arrived in Santorini for a short tour of the Greek islands. I even thought it was not going to be my cup of tea, too many tourists and too big for me.

I felt that this was my place when I left the island by ferry, the first time. I thought how incredible would have been the day in which I would have come back here, with that same ferry, to stay, not to spend a bunch of days.
Back in Milan, I started thinking and saying that I wanted to move to Santorini.

Answers I got back about my decision:
'Yeah, whatever'.
'Ah, yes, everyone says that after a holiday'.
'Yes, you are going to a country where there are a lot of opportunities'.
'What are you going to do on an island?'.
Not really supportive I'd say.
But sorry mates, you failed!

My first step into my dream was learning Greek. And sigà sigà I made it. In 2014 I moved to London where I got the chance to live the Greek community thanks to lots of lovely Greek friends.

Then when on holiday to Santorini in 2016, I had a deep discussion with a friend on one of my beloved beaches, Vlichada, about my life in London. I gave a description I thought was complete. My friend underlined that I did not say a word regarding how I felt, how happy or satisfied I was, but only had spoken about my jobs and activities I was doing in the City.
My life in London was enviable. I was working in the art environment, organizing 'cool' events, meeting exciting people. But I realized that day that I was not taking care of my self, of my needs, of my projects...
I needed a place where I could feel safe, relaxed, at home. And I was already there! The answer was under my bare feet.

So I took the decision in 2016. But my goal was set for 2017. I spent almost a year planning the moving to my Greek island.

A lot of people told me that I was crazy to throw away my life in London to go to a country with such a tremendous economic crisis.

That I was almost forty and that I should build something in my life.

That in the past years I have changed many times my mind regarding where to live and what to do.

That I would not have liked the life on the island for more than two months.

That I would have missed exhibitions, concerts, cinemas...
that I was a dreamer. my dear, yes i am!
And because I am also a very grounded and organized person, I started to make this dream come true since the beginning.
My first fear was to communicate this decision to my parents.
But their reaction made me understand once more why I love them so much.
'Please go and live there, don't go later when retired. If anything goes wrong, you have always your home in Milan where you'll come back and think about what to do next'. Wow!

This was the best encouragement that I needed. They were 100% with me! And that was more than enough for me! I did not get the same support by a lot of people with the same enthusiasm I have to say. But since that day with my parents, I started saying it loud: in 2017 I will move to Santorini.

If you say that, if you talk about your dream, it starts becoming a reality.
I was a bit worried about my new life: no exhibitions, no concerts, no a lot of other things that I was used to and that I did every day and love.
But you know what, there were a lot of things I was not doing for my self as well.
I was giving a lot of my energy to other people, to other people's projects. Why? Why not to my self? Why not focusing on my life, my projects, my passions?
So here I am. Discovering a new life and a new me, that, to be honest, I like a lot. I did not change completely my habits, I am still up for exhibitions, concerts, cinema...but I did not give these activities the 80% of my time.

I launched a blog on my life here and on the life of Santorini, which is my biggest project at the moment. I wish this could be of inspiration not only for holiday tips but also for people who want to change and they don't know where to start from.

Always start from yourself! You are unique and you can and you should try at least to find a way to live a life which is closer to your needs and features.

It seems very difficult to change and I also feel that there is a sort of shame in telling the others, and yourself, that you want something different, that you want to transform your life.
Change is the biggest excitement of life, that's why people love to travel.
I don't want anymore to travel for my holiday.
I want my life to be a travel.
And it is."
Nicoletta